EPIC RACES Running Mittens, PINK WINGS Midweight WINTER SOFT
Description
EPIC RACES RUNNING MITTENS Running Mittens Midweight WINTER SOFT
TURTLE GLOVES® RUNNING MITTENS with TURTLe-FLIP® Patented Functionality
EPIC RACES Running Mittens with Pink Wings are a special version of our Running Mittens Midweight Convertible Mittens, easy to use on the run! Perfect for outdoor fitness, sports and other activities. This LIMITED EDITION features beautiful Sparkle Wings!
ALL-IN-ONE: Convertible Mittens – Fingerless Gloves – Arm Warmer Sleeves – Wrist Band – Layer
WINTER SOFT Midweight Mittens made with Polartec® Power Stretch Pro® Wicking, Breathable, Fast-Drying, Soft inside and out, Very stretchy
WINTER SOFT Sizes (Y, XS, S, M/L, XL): Most WOMEN wear SMALL, Most MEN wear MEDIUM/LARGE, XL=MEN'S XL, XS for women or teens with narrow hands but longer fingers. Y youth about 8-12 years or women with petite hands and fingers.
TURTLE GLOVES Family of Temperature Rated Convertible Mittens
SPRING/FALL – Lightweight perfect for running, driving, indoor work, warehouse, computer etc. (Recommended to freezing, tested as low as 20F by runners. Grid models have a soft grid interior for extra wicking.)
WINTER (SOFT or TRAIL) – Midweight recommended for everyday use and for running below freezing temperatures. (Recommended to about 25F, tested as low as 15F by runners.)
WEATHER PROTECT – Heavyweight, Very warm, Windproof, Water Repellent, Breathable, Soft inside and out. (Recommended to about 10F, tested as low as -10F by runners.)
CURIOUSLY ENGINEERED – TURTLe-FLIP® Patented Functionality.
Wear on left or right hand – Low-bulk flip-over design – No buttons, magnets or hook & loop – No cumbersome mitten piece to get in the way – Thumb piece naturally folds into place in Fingerless Gloves mode – Simply curl fingers and flip elastic trim piece over all fingers and thumb together – Fold over or under to adjust length of finger exposure – From fingerless mode; tuck in thumb and slide to wrist, pull up full length for arm warmer or fold twice neatly into cuff or roll as desired – From Fingerless Gloves mode, use similar flipping method to turn back into mittens
Made in U.S.A. with Polartec® Power Stretch Pro® American-made Technical Fabric;93% Polyester, 7% Spandex
Machine Wash Cold or Warm. Tumble Dry Low or Hang Dry.
Do not Bleach. Do not Dry Clean. Do not use Fabric Softener.
Polartec® and Power Stretch Pro® are registered Trademarks of Polartec LLC.
Additional information
| | |
| --- | --- |
| Weight | 3 oz |
| Dimensions | 8 × 3 × 0.5 in |
| Color | Charcoal w/ Blue Trim, Charcoal w/ Kelly Green Trim, Gray w/ Blue Trim, Gray w/ Forest Green Trim, Gray w/ Kelly Green Trim, Gray w/ Orange Trim, Grey w/ Blue Trim, Grey w/ Forest Green Trim, Grey w/ Green Trim, Kelly Green, Lime w/ Lime Trim, Lime Yellow, Orange, Orange w/ Orange Trim, Pink, Red Crimson, Royal |
| Size | Youth, XS, S, M/L, XL |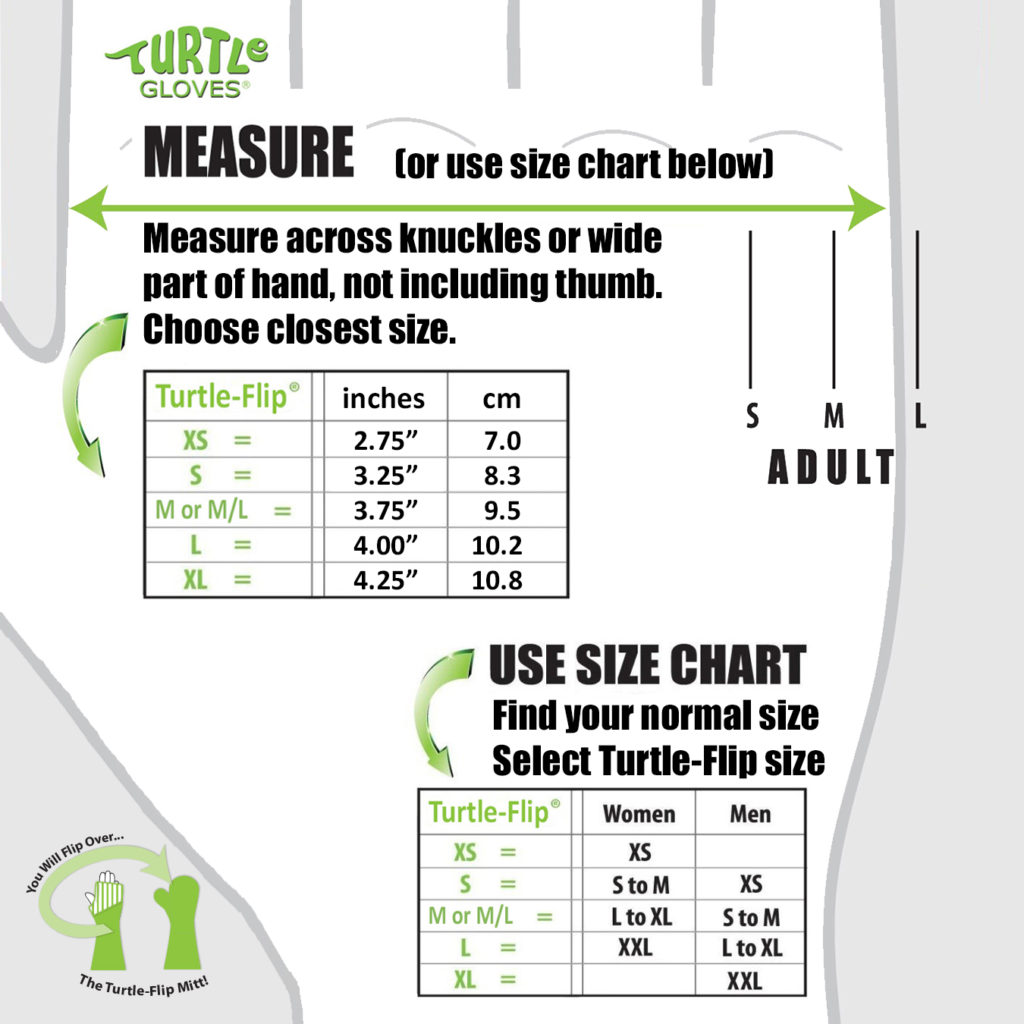 Most Turtle-Flip Mittens cover a wide range of hand sizes.
Lightweight & Midweight (Y XS  S  M/L  XL);
Y Youth - Youth about 8-12 years, women with petite hands and fingers
XS  Extra Small - Women or teens with narrow hands but longer fingers
S  Small - Most women wear Small
M/L  Medium/Large - Most Men wear M/L
XL  Extra Large - for very large hands
Heavyweight 'Weather Protect' (XS  S  M  L);
XS  Extra Small - Adult XS, women with narrow hands, teens
S  Small - Most women wear Small
M  Medium - Women with larger hands, Men with smaller or average hands
L  Large - Most Men wear L