Fingerless Gloves – Water Repellent with Moisture Wicking Lining; WATER REPEL 360 Silver or Gold
Description
TURTLE GLOVES® Reversible Fingerless Gloves; Water Repellent Fingerless Gloves with Soft Lining; WATER REPEL 360 Silver or Gold
These Reversible Turtle Gloves are ideal as rowing or paddling gloves, or for biking or running in the rain. Shorter than most other Turtle Gloves models, this dual-shell design exhibits a primary outer shell with '360 degrees' of WATERPROOF fabric around the entire hand. The Waterproof and Windproof Silver, Gold or Black fabric is stretchy, rubber-like and  grippy, normally worn as the outside layer especially in the rain or wet conditions. The secondary shell is a soft, wicking lining when worn on the inside.
CURIOUSLY ENGINEERED – Patented Functionality.
Dual-Layer Reversible Design – 2 Gloves-in-One – Wear on left or right hand – Turn completely inside-out for another 'pair' of gloves – Mix and match – Add any liner gloves – Large storage space, insert heat pack or small items, warm up fingers between layers
ADULT SIZES: (S, M, L) See Size Conversion Chart -OR- measure across knuckles with fingers together; for snug fit, choose smaller size: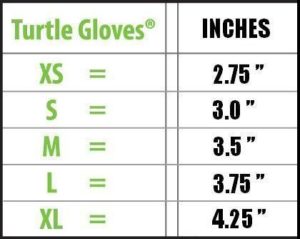 WOMEN typically wear S or M. Order your normal size. Except, if you wear Women's L, try size M. If XL try size L.
MEN typically wear M or L. Order your normal size. Except, if you wear Men's Small, try size M.
100% Polyester Machine Wash Cold or Warm. Tumble Dry Low or Hang Dry.
Do not Bleach. Do not Dry Clean. Do not use Fabric Softener.
Made in U.S.A. of U.S.A. and/or Imported Materials.
Additional information
| | |
| --- | --- |
| Weight | N/A |
| Dimensions | N/A |
| Size | L, M, S |
| Colors - Dual Shell | Black/Black, Black/Aqua, Black/Red, Black/Olive, Black/Camo, Black/Fish, Aqua/Aqua, Aqua/Black, Silver/Black, Gold / Black |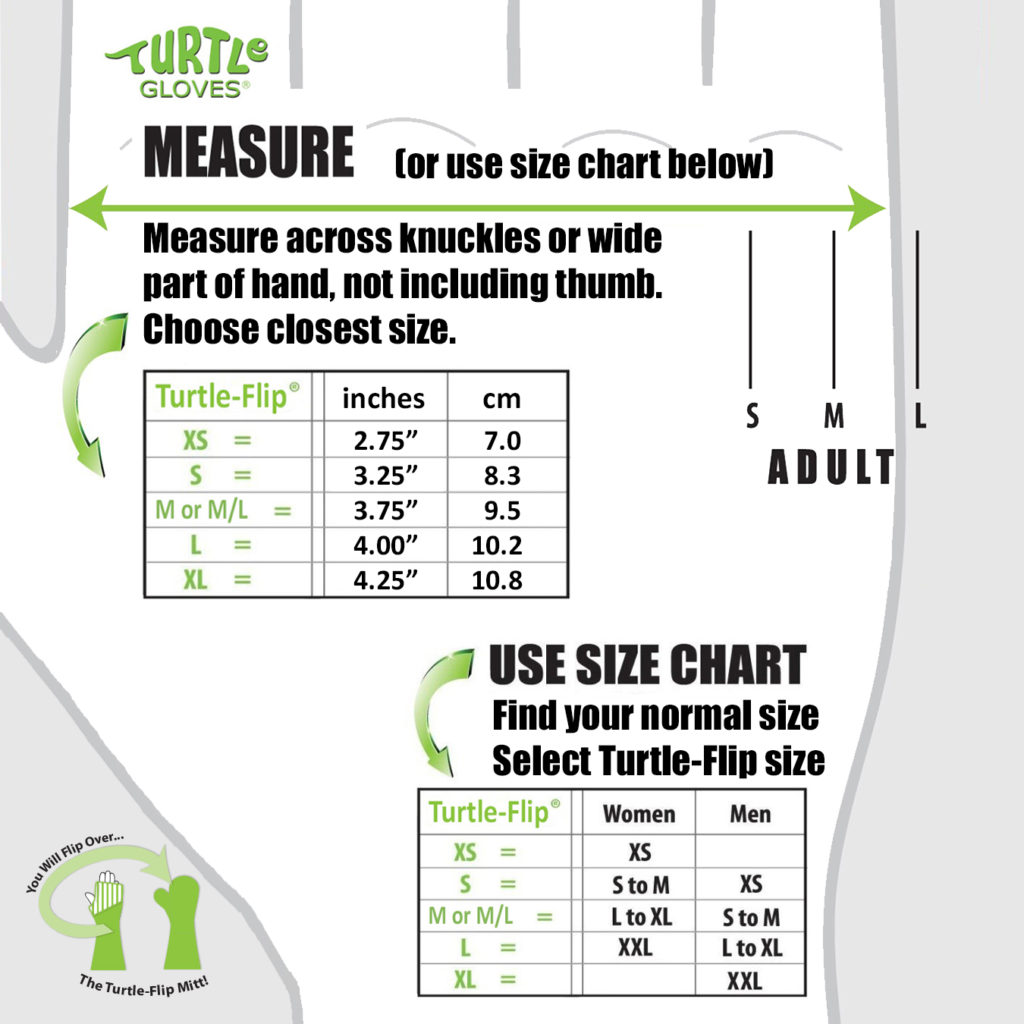 Most Turtle-Flip Mittens cover a wide range of hand sizes.
Lightweight & Midweight (Y XS  S  M/L  XL);
Y Youth - Youth about 8-12 years, women with petite hands and fingers
XS  Extra Small - Women or teens with narrow hands but longer fingers
S  Small - Most women wear Small
M/L  Medium/Large - Most Men wear M/L
XL  Extra Large - for very large hands
Heavyweight 'Weather Protect' (XS  S  M  L);
XS  Extra Small - Adult XS, women with narrow hands, teens
S  Small - Most women wear Small
M  Medium - Women with larger hands, Men with smaller or average hands
L  Large - Most Men wear L