Durable Mittens Warm Convertible, Turtle-Flip WINTER STRONG
Description
Durable Mittens Warm Convertible, WINTER STRONG 
TURTLE GLOVES® Convertible MITTENS Winter Strong with TURTLe-FLIP® Patented Functionality
Durable mittens, warm and convertible. Perfect for outdoor work or Winter fun. Made of USA thermal gloves fabric, soft on the inside with a rugged exterior, we call these durable mittens 'Winter Strong'. They are wind resistant and warmer than our Midweight Winter Trail Running Mittens but with less stretch. They are warmer than our Winter Fleece Cozy Mittens but with less softness and cuteness. These durable not-so-cute mittens are almost as warm as our warmest Heavyweight Weather Protect Convertible Mittens at a more affordable price.
Flip mittens to open finger option for dexterity, flip over mitten for warmth between tasks. With fingers open, wear long for extra fingerless gloves protection or fold short for more finger exposure. Add any liner gloves for added skin protection in open finger configuration. Thermal gloves fabric used in this model is more stiff than many other Turtle-Flip fabrics and will be easier to flip after wearing and using them for a while or after washing.
Sizes (S, M, L): Most WOMEN wear SMALL or Medium. Most MEN wear LARGE
CURIOUSLY ENGINEERED – TURTLe-FLIP® Patented Functionality.
Wear on left or right hand – Low-bulk flip-over design – No buttons, magnets or hook & loop – No cumbersome mitten piece to get in the way – Thumb piece naturally folds into place in Fingerless Gloves mode – Simply curl fingers and flip elastic trim piece over all fingers and thumb together – Fold over or under to adjust length of finger exposure – From fingerless mode; tuck in thumb and slide to wrist if needed instead of removal – From Fingerless Gloves mode, use similar flipping method to turn back into mittens.
Made in U.S.A.
Machine Wash Cold or Warm. Tumble Dry Low or Hang Dry.
Do not Bleach. Do not Dry Clean. Do not use Fabric Softener.
Additional information
| | |
| --- | --- |
| Weight | 3 oz |
| Dimensions | 8 × 3 × 0.5 in |
| Size | Small, Medium, Large |
| Color | Black w/ Black Trim, Black w/ Orange Trim, Black w/ Yellow Trim |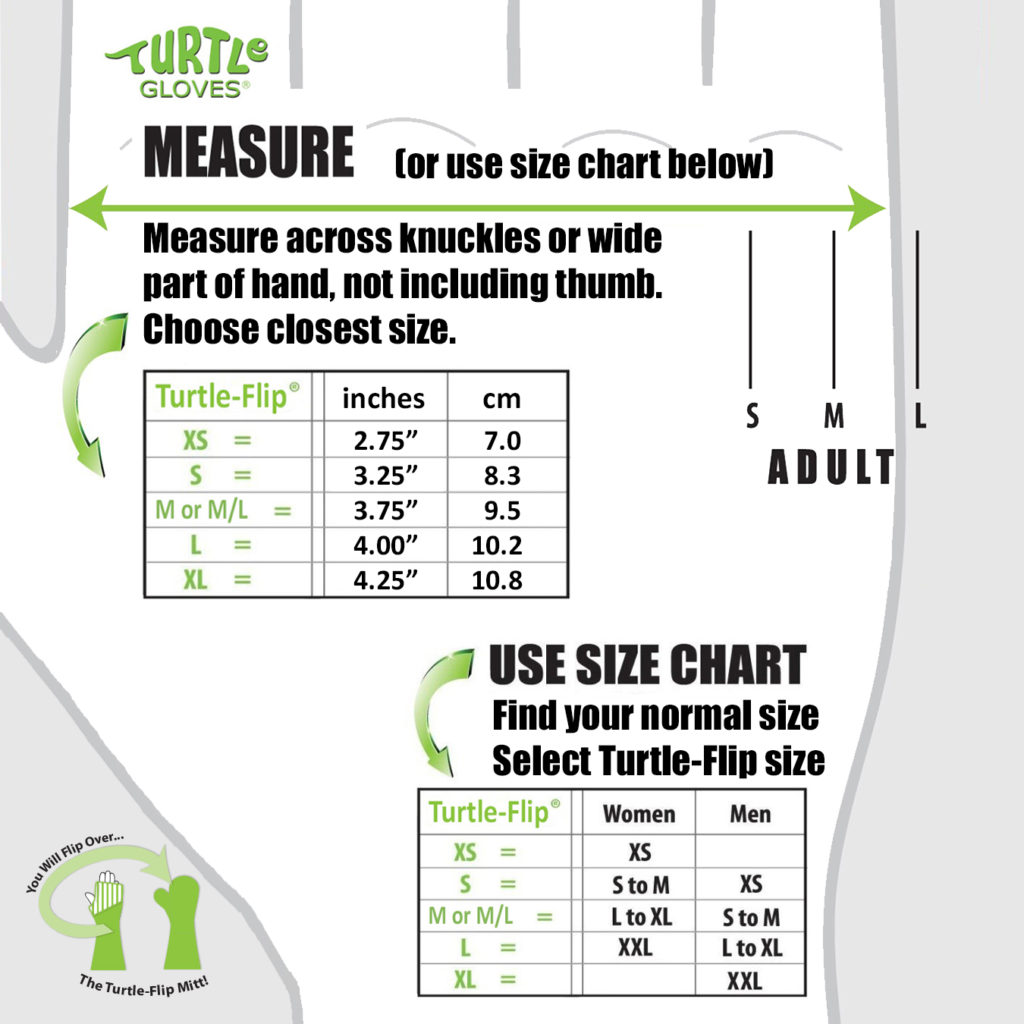 Most Turtle-Flip Mittens cover a wide range of hand sizes.
Lightweight & Midweight (Y  XS  S  M/L  XL);
Y Youth - Youth about 8-12 years, women with petite hands and fingers
XS  Extra Small - Women or teens with narrow hands but longer fingers
S  Small - Most women wear Small
M/L  Medium/Large - Most Men wear M/L
XL  Extra Large - for very large hands
Heavyweight 'Weather Protect' (XS  S  M  L);
XS  Extra Small - Adult XS, women with narrow hands, teens
S  Small - Most women wear Small
M  Medium - Women with larger hands, Men with smaller or average hands
L  Large - Most Men wear L
Fleece Mittens 'Winter Cozy Colors and Prints' (Y  S  M  L);
Y Youth - Youth about 8-12 years, women with petite hands and fingers
S  Small - Most women wear Small
M  Medium - Women with larger hands, Men with smaller hands
L  Large - Most Men wear L