Convertible Mittens FLEECE COZY Colors, Turtle-Flip
Description
Convertible Mittens Fleece Cozy Colors
TURTLE GLOVES® Convertible MITTENS Fleece with TURTLe-FLIP® Patented Functionality
Convertible Mittens Fleece for cozy comfort. Perfect for outdoor fun and fashion.
Convertible Mittens or Fingerless Gloves that can be folded short or worn long for extra warmth. Slide to wrist instead of removal.
Available in fun patterns and animal prints. Popular solid colors are extra cozy, made with premium fleece.
Sizes (Y, S, M, L): Most WOMEN wear SMALL, Most MEN wear MEDIUM or LARGE, Y youth about 8-12 years old.
CURIOUSLY ENGINEERED – TURTLe-FLIP® Patented Functionality.
Wear on left or right hand – Low-bulk flip-over design – No buttons, magnets or hook & loop – No cumbersome mitten piece to get in the way – Thumb piece naturally folds into place in Fingerless Gloves mode – Simply curl fingers and flip elastic trim piece over all fingers and thumb together – Fold over or under to adjust length of finger exposure – From fingerless mode; tuck in thumb and slide to wrist, pull up full length for arm warmer or fold twice neatly into cuff or roll as desired – From Fingerless Gloves mode, use similar flipping method to turn back into mittens
Made in U.S.A.
Solid colors Made in U.S.A. with Polartec® 200 Fleece 100% Polyester
Patterns Made in U.S.A. with Imported Fleece 100% Polyester
Machine Wash Cold or Warm. Tumble Dry Low or Hang Dry.
Do not Bleach. Do not Dry Clean. Do not use Fabric Softener.
Polartec® registered Trademark of Polartec LLC.
Additional information
| | |
| --- | --- |
| Weight | 3 oz |
| Dimensions | 8 × 3 × 0.5 in |
| Size | Child Large 7-11, Child Medium 4-7, Child Small, Child Small 2-4, XLarge, XSmall, Y, Youth, XS, S, L, Small, M/L, Medium, Large, XL, XXL |
| Color | Green Cozy, Navy Cozy, Nordic Black, Nordic Blue, Painted Hands, Pink Cozy, Purple Cozy, Purple Zebra, Puzzle, Snowflake, White Zebra, Charcoal w/ Blue Trim, Charcoal w/ Kelly Green Trim, Gray w/ Blue Trim, Gray w/ Forest Green Trim, Gray w/ Kelly Green Trim, Gray w/ Orange Trim, Grey w/ Blue Trim, Grey w/ Forest Green Trim, Grey w/ Green Trim, Kelly Green, Lime w/ Lime Trim, Lime Yellow, Orange, Orange w/ Orange Trim, Paws Brown, Paws White, Pink, Pink Zebra, Royal |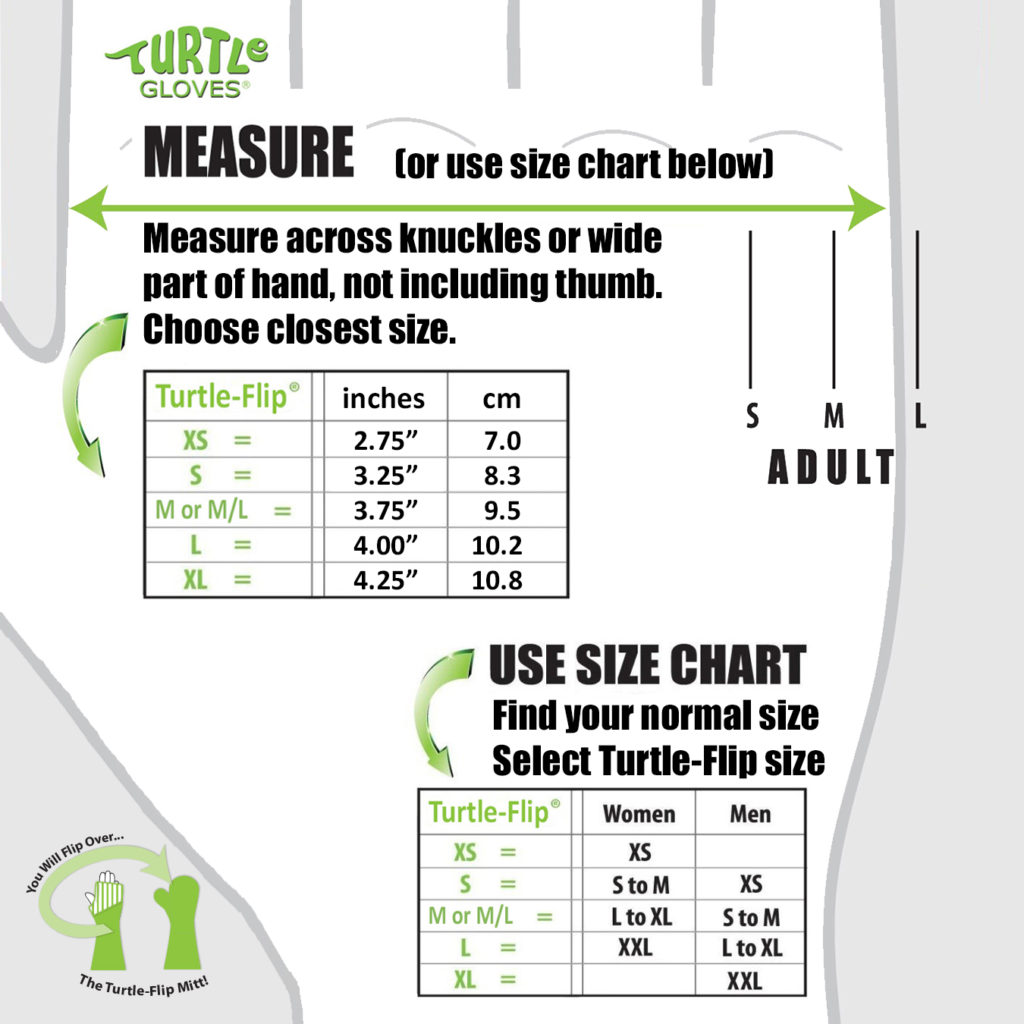 Most Turtle-Flip Mittens cover a wide range of hand sizes.
Lightweight & Midweight (Y  XS  S  M/L  XL);
Y Youth - Youth about 8-12 years, women with petite hands and fingers
XS  Extra Small - Women or teens with narrow hands but longer fingers
S  Small - Most women wear Small
M/L  Medium/Large - Most Men wear M/L
XL  Extra Large - for very large hands
Heavyweight 'Weather Protect' (XS  S  M  L);
XS  Extra Small - Adult XS, women with narrow hands, teens
S  Small - Most women wear Small
M  Medium - Women with larger hands, Men with smaller or average hands
L  Large - Most Men wear L
Fleece Mittens 'Winter Cozy Colors and Prints' (Y  S  M  L);
Y Youth - Youth about 8-12 years, women with petite hands and fingers
S  Small - Most women wear Small
M  Medium - Women with larger hands, Men with smaller hands
L  Large - Most Men wear L