TURTLe-FLIP Running Mittens, Lightweight SPRING/FALL Watch Out
Description
Running Mittens Watch Opening Lightweight SPRING FALL with Watch Gusset
LIMITED EDITION – Backorders will normally ship in 4 to 8 business days.
TURTLE GLOVES® RUNNING MITTENS with TURTLe-FLIP® Patented Functionality and Watch Gusset
Running Mittens Watch Opening Lightweight Convertible Mittens, easy to use on the run! Perfect for outdoor fitness, sports and other activities.
ALL-IN-ONE: Convertible Mittens – Fingerless Gloves – Arm Warmer Sleeves – Wrist Band – Layer
Yes, the Watch Gusset was part of our Original Patent. Since most Turtle-Flip Running Mittens are made with a long wrist and can convert into an arm warmer sleeve, they need to be folded if continuous watch viewing is desired. The Watch Gusset opening allows for convenient viewing or covering the watch when needed.
⏰ Watch slot location – Standard Left Outside Wrist (Optional RIGHT Wrist available when indicated for some models)
🤔 This was a challenge in making the decision to place the watch gussets where they are located on the First LIMITED EDITION batch. Custom options may be available by request and future batches may be different. The next round may be made like the shirts and hoodies where you are forced to wear in one flipping direction or we might offer a left and right version.
Because Turtle Gloves are interchangeable, the Turtle-Flip Mitten wearer decides their favorite flipping direction, either flipping open so the thumb piece naturally folds into place on the back of hand or on the palm depending on which way they choose.
When we asked many people where they prefer to wear their watch, most people voted for left wrist, outside of wrist. So, we made the mittens in a way that would work regardless of which glove they wear on the left hand. With most people being 'right hand' dominate, this normally results in wearing a watch on the left hand for a number of reasons. However, many 'left handers' still wear gps watch on left wrist and some 'right handers' wear on right wrist. 
Still, there are more people that choose opposite flipping direction than people that wear their watch on the right hand. Rather than restrict the former option, we elected to place the opening in opposite locations on a pair of gloves so the watch would be at the outside of the left wrist regardless of which glove is worn on that hand. If the wearer chooses to wear the watch on the right hand, the watch will end up on the inside of the wrist but at least there is the option of wearing a watch on the right hand. We thought about leaving both sides open but it makes them more difficult to use and maybe would get too cold at the wrist.
People with only one hand are clever enough to flip with their teeth or tools (we have seen impressive examples of this capability) or with support from others. They can choose the mitten with the easiest flipping direction but may be limited with the watch opening location depending on model availability. We also have a LONE TURTLE program, by request, for people that only need one mitten or have lost one.
SPRING/FALL Lightweight Running Mittens made with Polartec® Power Dry® Wicking, Breathable, Fast-Drying, Soft inside and out, Very stretchy (Grid models have soft grid inside for extra wicking)
SPRING/FALL Sizes (Y, XS, S, M/L, XL): Most WOMEN wear SMALL, Most MEN wear MEDIUM/LARGE, XL=MEN'S XL, XS for women or teens with narrow hands but longer fingers. Y youth about 8-12 years or women with petite hands and fingers.
TURTLE GLOVES Family of Temperature Rated Convertible Mittens
SPRING/FALL – Lightweight perfect for running, driving, indoor work, warehouse, computer etc. (Recommended to freezing, tested as low as 20F by runners.)
WINTER (SOFT or TRAIL) – Midweight recommended for everyday use and for running below freezing temperatures. (Recommended to about 25F, tested as low as 15F by runners.)
WEATHER PROTECT HEAVYWEIGHT – Very warm, Windproof, Water Repellent, Breathable, thick fabric. (Recommended to about 10F, tested as low as -10F by runners.)
WEATHER PROTECT LIGHTWEIGHT – Warm, Windproof, Water Repellent, Breathable, thin fabric. (Recommended to about 20F, tested as low as 10F by runners.)
CURIOUSLY ENGINEERED – TURTLe-FLIP® Patented Functionality.
Wear on left or right hand – Low-bulk flip-over design – No buttons, magnets or hook & loop – No cumbersome mitten piece to get in the way – Thumb piece naturally folds into place in Fingerless Gloves mode – Simply curl fingers and flip elastic trim piece over all fingers and thumb together – Fold out or inside to adjust length of finger exposure – From fingerless mode; tuck in thumb and slide to wrist, pull up full length for arm warmer or fold twice neatly into cuff or roll as desired – From Fingerless Gloves mode, use similar flipping method to turn back into mittens
Made in U.S.A. with Polartec® Power Grid® American-made Technical Fabric; 93% Polyester, 7% Spandex
Machine Wash Cold or Warm. Tumble Dry Low or Hang Dry.
Do not Bleach. Do not Dry Clean. Do not use Fabric Softener.
Polartec® and Power Grid® are registered Trademarks of Polartec LLC.
Additional information
| | |
| --- | --- |
| Weight | 3 oz |
| Dimensions | 8 × 3 × 0.5 in |
| Color | Black Grid w/ Blue Watch Gusset RIGHT, Black w/ Watch Gusset, Black w/ Watch Gusset LEFT, Black w/ Watch Gusset RIGHT, Black Grid w/ Blue Watch Gusset, Black w/ Orange Trim, Blue Sky, Grey Grid w/ Lime Trim, Lime Grid, Black Grid, Grey Grid w/ Pink Trim, Black w/ Yellow Trim, Black w/ Pink Trim, Black w/ Blue Trim |
| Size | Y, XS, S, M/L, XL |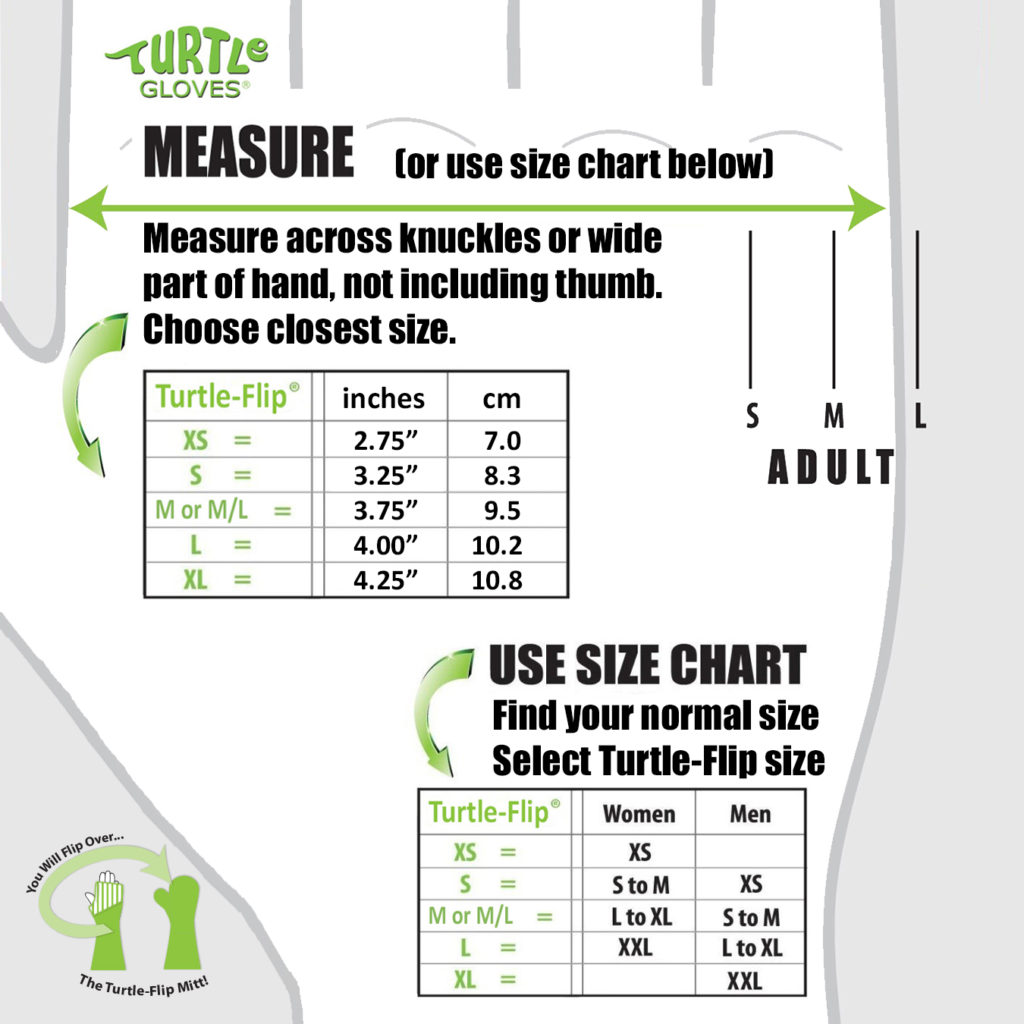 Most Turtle-Flip Mittens cover a wide range of hand sizes.
Lightweight & Midweight (Y XS  S  M/L  XL);
Y Youth - Youth about 8-12 years, women with petite hands and fingers
XS  Extra Small - Women or teens with narrow hands but longer fingers
S  Small - Most women wear Small
M/L  Medium/Large - Most Men wear M/L
XL  Extra Large - for very large hands
Heavyweight 'Weather Protect' (XS  S  M  L);
XS  Extra Small - Adult XS, women with narrow hands, teens
S  Small - Most women wear Small
M  Medium - Women with larger hands, Men with smaller or average hands
L  Large - Most Men wear L