Performance Mitten Hoodie by Turtle Gloves – Fitness Lightweight Grid with Watch Gussets
Description
Performance Hoodie with Mittens by Turtle Gloves – Fitness Lightweight with Patented TURTLe-FLIP® and Watch Gusset Technology from Turtle Gloves®
Performance Hoodie with Mittens made for fitness or every day so you will never loose your Mittens again! The Performance Hoodie has built-in convertible mittens that fold onto the wrist when not needed. When you need a little warmth, easily convert into Fingerless Gloves or MITTENS! As fingerless gloves, they can be worn long for more finger coverage or folded short. Then with a simple flip, the mittens pop out. To fold back into a cuff, convert to fingerless long, tuck in your thumb and fold onto wrist. This model also includes the Watch Gusset on both outside wrists for viewing GPS watch, Health ID bracelets or inspiration bracelets.  There is also an outside cuff that can be worn down over the watch to keep batteries warmer or folded up for continuous viewing. Just like the hood is there when you need it, you now have mittens ready for a chilly day.
Performance Hoodie with Mittens for Fitness is made for next-to-skin wicking and breathable comfort. The performance fabric allows this hoodie to be worn alone or as a base layer. With extra length and roominess in the body, it may also be worn over other layers. The side pockets are soft inside and deep enough to hold cell phones.
USA made Paracord Brand sold separately, link to cord color selections. ->> Hood Cord for Mitten Hoodies Sold Separately
Find matching Head Wrap ->> Running Hat Ponytail Headbands
Adding visual and textural interest, the grid style performance fabric has a soft grid next-to-skin side and a jersey face.
CURIOUSLY ENGINEERED – TURTLe-FLIP® Patented Functionality.
Turtle Gloves patented, low-bulk flip-over mitten design is trademarked as Turtle-Flip Mittens. No buttons, magnets or hook & loop. No cumbersome mitten piece to get in the way. Simply curl fingers and flip elastic trim piece over all fingers and thumb together. When changing to fingerless gloves, thumb piece naturally folds into place. Fold to adjust length of finger exposure. Use similar flipping method to turn back into mittens from fingerless gloves. To convert from fingerless gloves to cuff, tuck in thumb and slide to wrist or fold once neatly into cuff or roll as desired.
Made in U.S.A. of USA and/or Imported fabrics
Fabric Content: Base: 93% Polyester, 7% Spandex
Mittens: 93% Polyester, 7% Spandex
Washing Instructions: Machine Wash Cold. Tumble Dry Low.
Do not bleach. Do not dry clean. Do not use fabric softener.
Additional information
| | |
| --- | --- |
| Weight | 20 oz |
| Dimensions | 12 × 8 × 2 in |
| Color | Black/Black, Brown/Pink, Camel/Black, Dark Pink Lightweight Grid w/ Watch Gussets, Heather Gray Midweight w/ Watch Gussets, Rust/Black, Deep Red Lightweight w/ Watch Gussets |
| Size | XS, Small, Medium, Large, XL, XXL |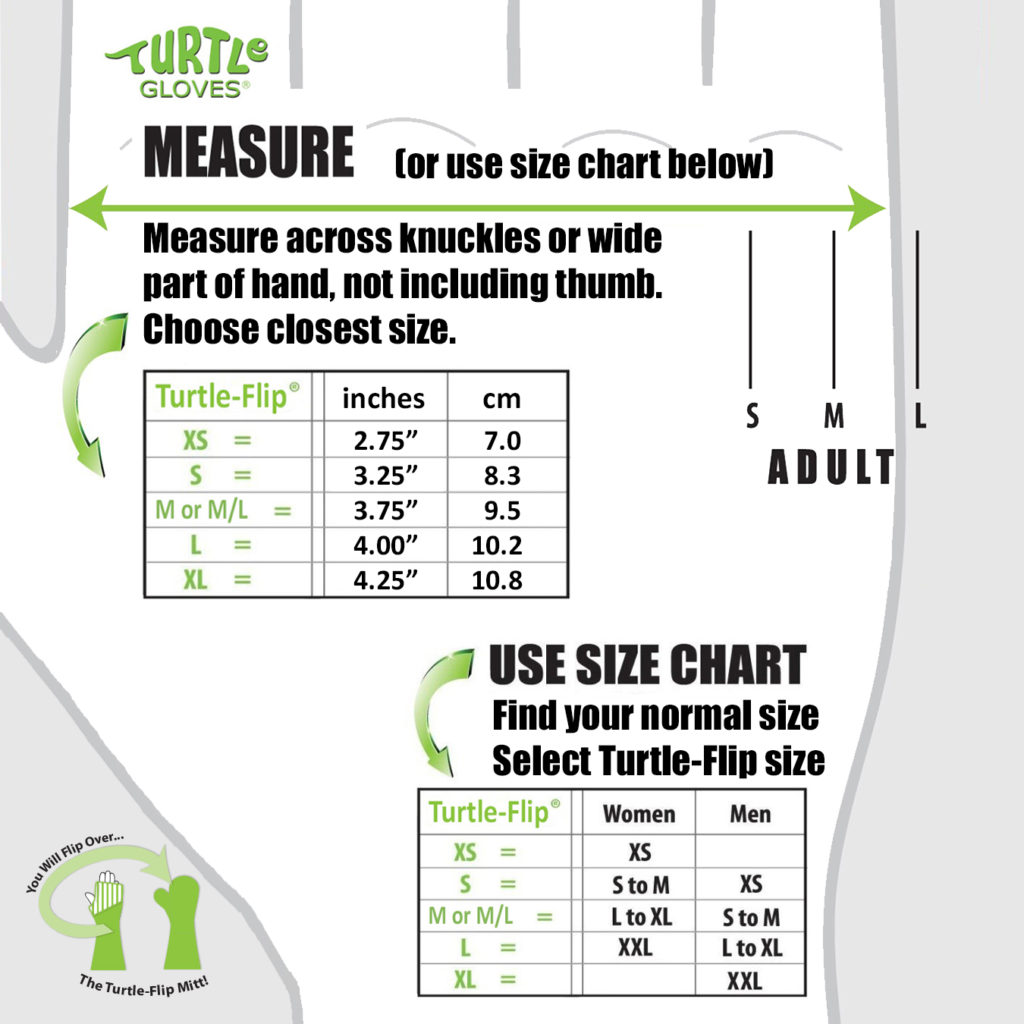 Most Turtle-Flip Mittens cover a wide range of hand sizes.
Lightweight & Midweight (Y  XS  S  M/L  XL);
Y Youth - Youth about 8-12 years, women with petite hands and fingers
XS  Extra Small - Women or teens with narrow hands but longer fingers
S  Small - Most women wear Small
M/L  Medium/Large - Most Men wear M/L
XL  Extra Large - for very large hands
Heavyweight 'Weather Protect' (XS  S  M  L);
XS  Extra Small - Adult XS, women with narrow hands, teens
S  Small - Most women wear Small
M  Medium - Women with larger hands, Men with smaller or average hands
L  Large - Most Men wear L
Fleece Mittens 'Winter Cozy Colors and Prints' (Y  S  M  L);
Y Youth - Youth about 8-12 years, women with petite hands and fingers
S  Small - Most women wear Small
M  Medium - Women with larger hands, Men with smaller hands
L  Large - Most Men wear L