Waterproof Trail Jacket with Mittens – Turtle Gloves Conversion
Description
Waterproof Trail Jacket with Mittens – A Mitten Conversion with Patented TURTLe-FLIP® and Watch-Out Technology from Turtle Gloves®
***NEW *** If your size shows backorder we will let you know if more than 8 days to ship your selection. Thank you.
Waterproof Trail Jacket with Turtle Flip Mittens so you will be ready for woods and water adventures. This Turtle Gloves Conversion is a full zip jacket with built-in convertible mittens that also include our Watch-Out option for GPS watch view on outside left and right wrists.
When you need a little warmth, the cuffs easily convert into Fingerless Gloves or MIttens. As fingerless gloves, they can be worn long for more finger coverage or folded short. Then with a simple flip, (as described below) the mittens pop out. To fold back into a cuff, convert to fingerless long, tuck in your thumb and fold once neatly or roll onto wrist.
Body of jacket is a soft shell style with durable water-repellent (DWR) finish that resists wind and rain while the inside of the jacket has a brushed grid texture microfleece. The mittens or 'Turtles' are built into the jacket with our Midweight Winter Trail fabric which offers some wind and water protection as well as abrasion resistance making this outdoor garment ideal for hiking, fishing or any activity in damp weather.
The body of the jacket is stretchy and has a 5000MM fabric waterproof rating and 5000G/M2 fabric breathability rating. Other features include molded front zipper, waterproof hand pocket zippers, reflective taping details and adjustable locking draw cord hem. Elastic loops allow the jacket to be worn as a liner in outer jackets designed to snap to cuff and collar loops. In addition, the loop on the outside of the collar can be used as a hanging loop.
Jacket Made in China
Base: 100% Polyester (Made in China)
Mittens: 90% Polyester, 10% Spandex (Made in USA)
Machine Wash Cold Separately. Tumble Dry Low. Do not bleach. Do not dry clean. Do not use fabric softener. Do Not Iron.
Optional Add-on: Great Lakes Logo patch
CURIOUSLY ENGINEERED – TURTLe-FLIP® Patented Functionality.
Turtle Gloves patented, low-bulk flip-over design with trademarked Turtle-Flip Mittens. No buttons, magnets or hook & loop. No cumbersome mitten piece to get in the way. Thumb piece naturally folds into place in Fingerless Gloves mode. Simply curl fingers and flip elastic trim piece over all fingers and thumb together. Fold over or under to adjust length of finger exposure. From fingerless gloves mode, tuck in thumb and slide to wrist or fold once neatly into cuff or roll as desired. Use similar flipping method to turn back into mittens from fingerless gloves.
Additional information
| | |
| --- | --- |
| Weight | 20 oz |
| Dimensions | 12 × 8 × 2 in |
| Color | Aqua, Black/Blue, Black/Green, Black/Neon Yellow, Black/Pink, Gray, Neon Yellow/Black, Olive, Red, Red w/ Great Lakes Logo, Royal Blue, Purple, Black, Navy |
| Mens and Ladies Size | Men S, Men M, Men L, Men XL, Men XXL, Ladies S, Ladies M, Ladies L, Ladies XL, Ladies XXL |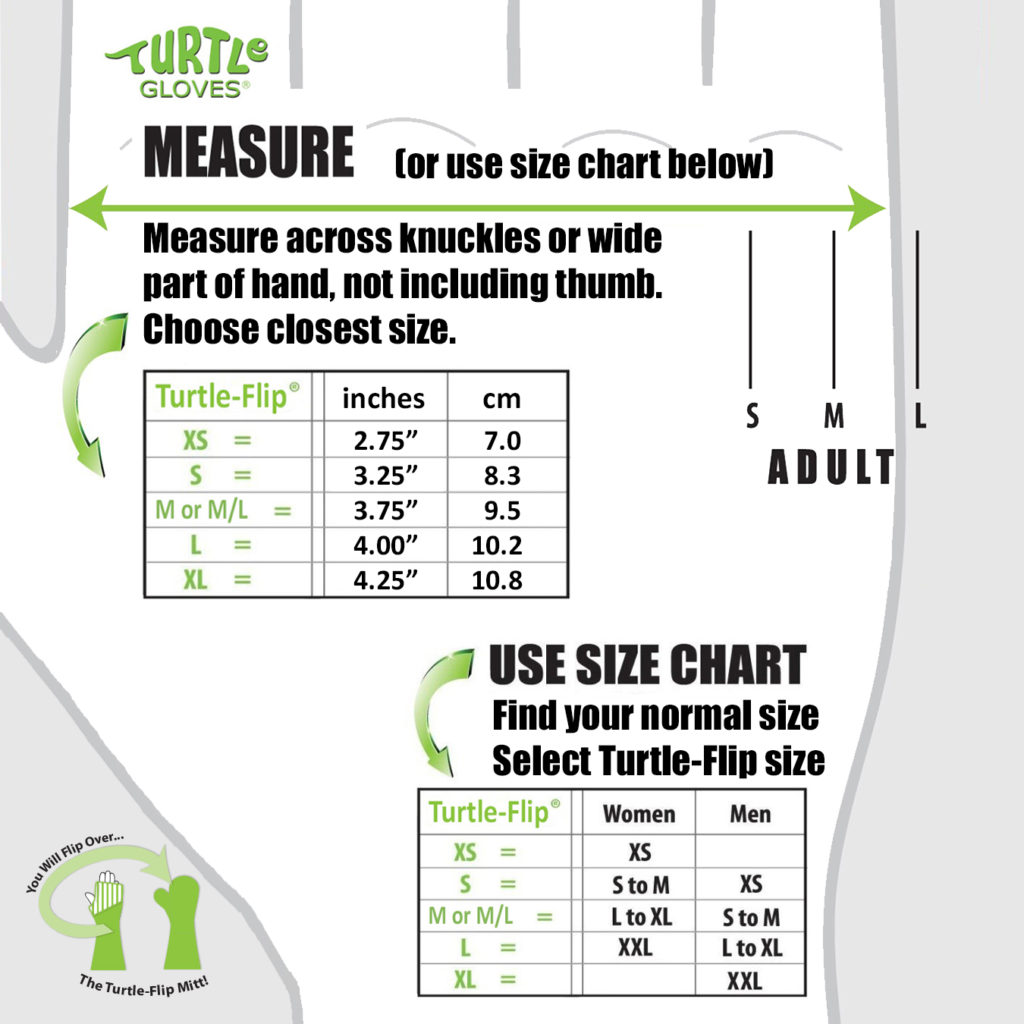 Most Turtle-Flip Mittens cover a wide range of hand sizes.
Lightweight & Midweight (Y  XS  S  M/L  XL);
Y Youth - Youth about 8-12 years, women with petite hands and fingers
XS  Extra Small - Women or teens with narrow hands but longer fingers
S  Small - Most women wear Small
M/L  Medium/Large - Most Men wear M/L
XL  Extra Large - for very large hands
Heavyweight 'Weather Protect' (XS  S  M  L);
XS  Extra Small - Adult XS, women with narrow hands, teens
S  Small - Most women wear Small
M  Medium - Women with larger hands, Men with smaller or average hands
L  Large - Most Men wear L
Fleece Mittens 'Winter Cozy Colors and Prints' (Y  S  M  L);
Y Youth - Youth about 8-12 years, women with petite hands and fingers
S  Small - Most women wear Small
M  Medium - Women with larger hands, Men with smaller hands
L  Large - Most Men wear L