TURTLe-FLIP Mittens, REFLECTIVE, Midweight WINTER TRAIL
Description

Reflective Running Gloves TURTLE GLOVES® RUNNING MITTENS with TURTLe-FLIP® Patented Functionality; Running Mittens Midweight WINTER TRAIL with REFLECTIVE
Reflective Running Gloves, Convertible Mittens, easy to use on the run! Perfect for outdoor fitness, sports and other activities.
ALL-IN-ONE: Convertible Mittens – Fingerless Gloves – Arm Warmer Sleeves – Wrist Band – Layer
WINTER TRAIL Midweight Mittens made with Polartec® Power Stretch® Wicking, Breathable, Fast-Drying, Soft inside, Hardface outside, Abrasion resistant, Somewhat wind resistant and water repellent
WINTER TRAIL Sizes (Y, XS, S, M/L, XL): Most WOMEN wear SMALL, Most MEN wear MEDIUM/LARGE, XL=MEN'S XL, XS for women with narrow hands or Y youth about 8-12 years.
Family of Temperature Rated Turtle-Flip Mittens
SPRING/FALL – Lightweight perfect for running, driving, indoor work, warehouse, computer etc. (Recommended to freezing, tested as low as 20F by runners. Grid models have a soft grid interior for extra wicking.)
WINTER (SOFT or TRAIL) – Midweight recommended for everyday use and for running below freezing temperatures. (Recommended to about 25F, tested as low as 15F by runners.)
WEATHER PROTECT – Heavyweight, Very warm, Windproof, Water Repellent, Breathable, Soft inside and out. (Recommended to about 10F, tested as low as -10F by runners.)
CURIOUSLY ENGINEERED – TURTLe-FLIP® Patented Functionality.
Wear on left or right hand – Low-bulk flip-over design – No buttons, magnets or hook & loop – No cumbersome mitten piece to get in the way – Thumb piece naturally folds into place in Fingerless Gloves mode- Simply curl fingers and flip elastic trim piece over all fingers and thumb together – Fold over or under to adjust length of finger exposure – From fingerless mode; tuck in thumb and slide to wrist, pull up full length for arm warmer or fold twice neatly into cuff or roll as desired – From Fingerless Gloves mode, use similar flipping method to turn back into mittens
Made in U.S.A. with Polartec®Power Stretch®American-made Technical Fabric; 93% Polyester, 7% Spandex
Machine Wash Cold or Warm. Tumble Dry Low or Hang Dry.
Do not Bleach. Do not Dry Clean. Do not use Fabric Softener.
Polartec®and Power Stretch®are registered Trademarks of Polartec LLC.
Additional information
| | |
| --- | --- |
| Weight | 3 oz |
| Dimensions | 8 × 3 × 0.5 in |
| Color | Purple, Black, Navy |
| Size | XS, S, M/L, XL |
| Reflective | 13.1, 26.2, Michigan |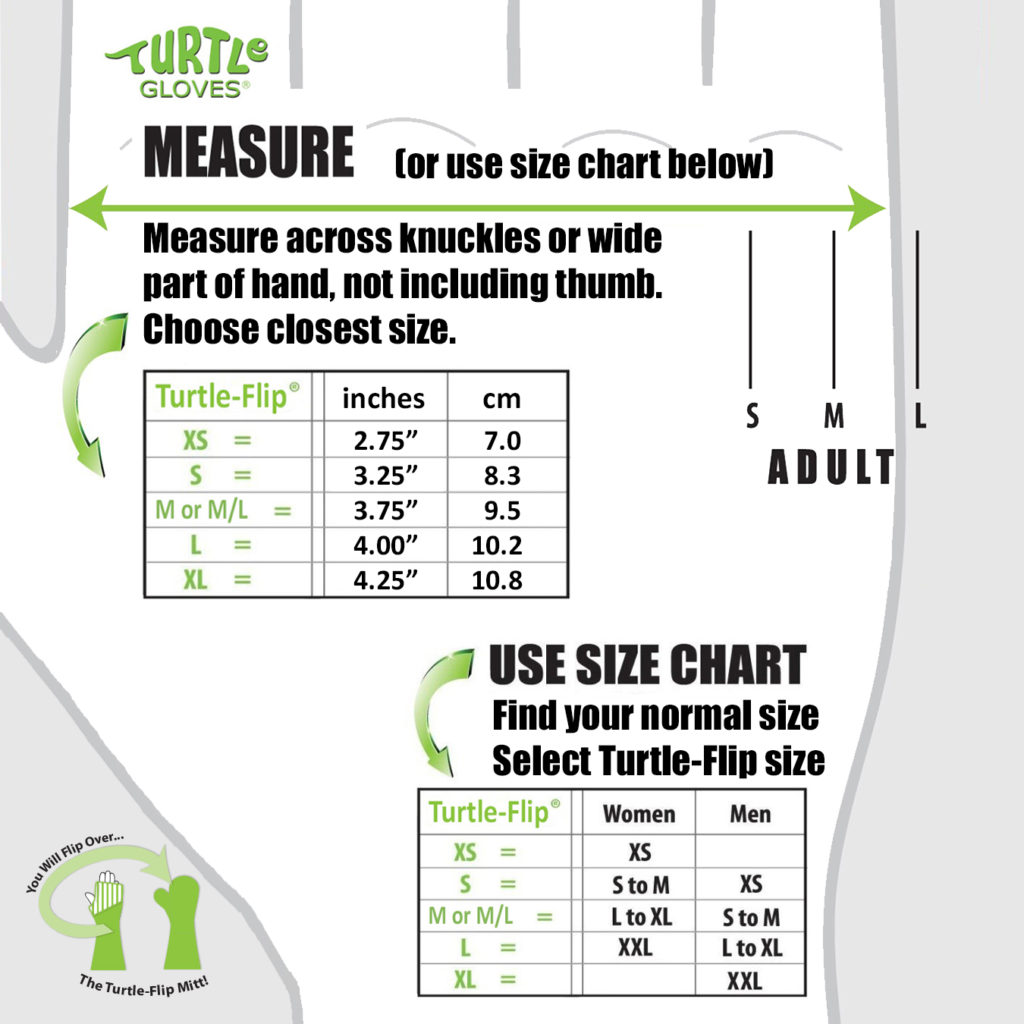 Most Turtle-Flip Mittens cover a wide range of hand sizes.
Lightweight & Midweight (Y XS  S  M/L  XL);
Y Youth - Youth about 8-12 years, women with petite hands and fingers
XS  Extra Small - Women or teens with narrow hands but longer fingers
S  Small - Most women wear Small
M/L  Medium/Large - Most Men wear M/L
XL  Extra Large - for very large hands
Heavyweight 'Weather Protect' (XS  S  M  L);
XS  Extra Small - Adult XS, women with narrow hands, teens
S  Small - Most women wear Small
M  Medium - Women with larger hands, Men with smaller or average hands
L  Large - Most Men wear L