Description
Beanie Hat Double Layer Warmth
Beanie Hat with double layer warmth. Superior stretch, midweight fitness fabric outer layer as used in our Midweight Winter Soft Turtle-Flip Mittens and Midweight Performance Mitten Hoodies. Beanie Hat models have a warm lining of fleece or a wicking, soft grid, waffle-type lining. Currently, the Heather Gray and Charcoal Beanie have grid lining in coordinating colors.
These models have quad-styling beanie hat construction. Some we call '4 panel' and are constructed with 4 separate panels (and likewise, 4 vertical seams) for the outside layer and some we call '4 point' where they are made with a single panel wrapped around with 4 similar points to the top of the hat and a single long vertical seam. Both quad-styling designs have a similar look and are normally worn with a 'point' or seam at the back of the head or slightly to one side as in the photos.
The beanie hat layers can be manipulated for different styling. For snug fit, push inner layer all the way inside outer layer, place on your head and pull down on outside layer for a snug head fit and maximum ear coverage, fold the brim up for less ear coverage. For 'slouch' styling, pull outer layer up away from top of inner layer, until the brim of inner layer edge shows on the outside, then fit inside layer to head and push the rest of the hat toward the back of your head. The hat may be worn inside out for a different and maybe a little weird look or for airing out the inside from a vigorous, cold weather workout!
One Size fits adults about 20.5 to 23.5 inches circumference.
Made in U.S.A.
Outer layer; Heather: 89% Polyester 11% Spandex / Other: 53% Polyester 38% Nylon 9% Spandex
Inner Layer; Fleece: 100% / Polyester Grid: 93% Polyester 7% Spandex / or Polyester Nylon Polyester of different percentages
Machine Wash Cold Gentle. Tumble Dry Low.
Additional information
| | |
| --- | --- |
| Weight | 3 oz |
| Dimensions | 8 × 4 × 0.5 in |
| Color | Black Tone on Tone, Orange/Olive, Pink/Rose, Charcoal Heather, Gray Heather, Olive Heather |
| Size | Small, Medium, Large, One Size |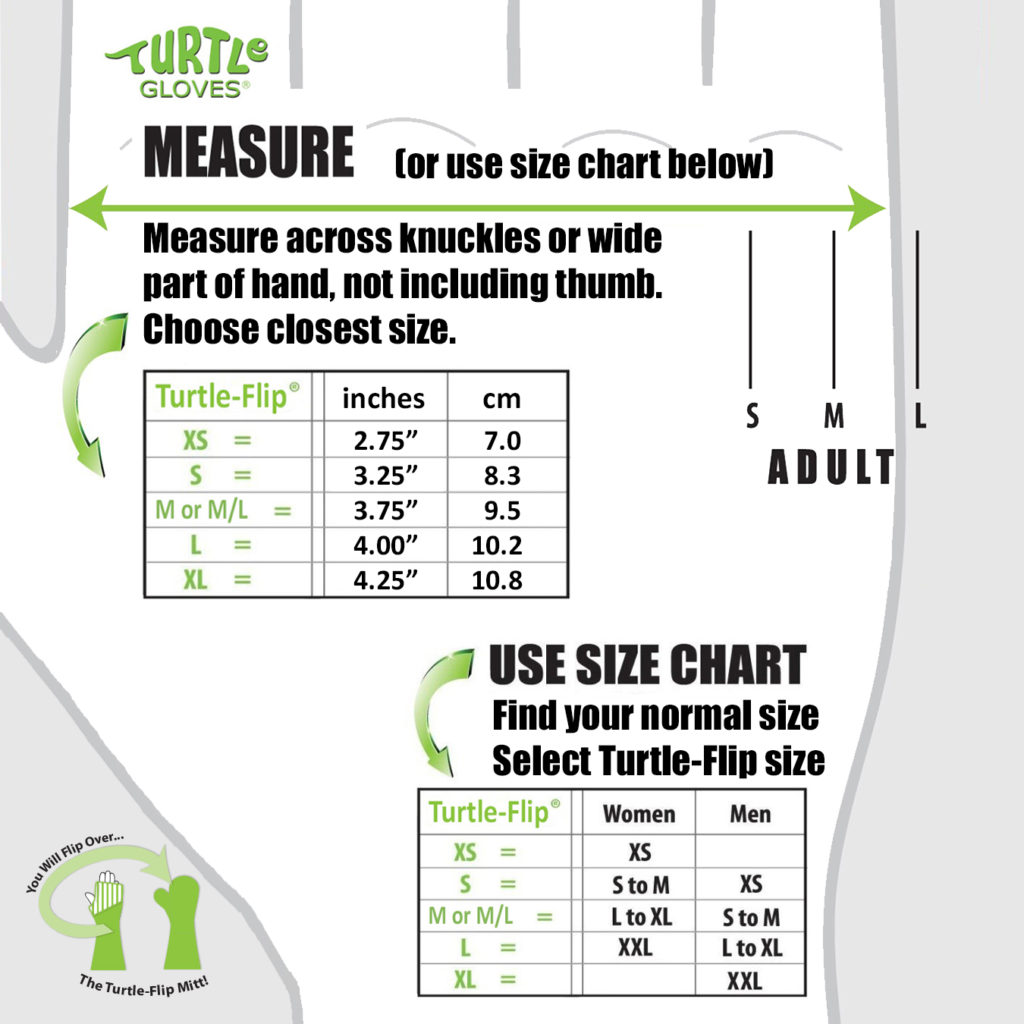 Most Turtle-Flip Mittens cover a wide range of hand sizes.
Lightweight & Midweight (Y  XS  S  M/L  XL);
Y Youth - Youth about 8-12 years, women with petite hands and fingers
XS  Extra Small - Women or teens with narrow hands but longer fingers
S  Small - Most women wear Small
M/L  Medium/Large - Most Men wear M/L
XL  Extra Large - for very large hands
Heavyweight 'Weather Protect' (XS  S  M  L);
XS  Extra Small - Adult XS, women with narrow hands, teens
S  Small - Most women wear Small
M  Medium - Women with larger hands, Men with smaller or average hands
L  Large - Most Men wear L
Fleece Mittens 'Winter Cozy Colors and Prints' (Y  S  M  L);
Y Youth - Youth about 8-12 years, women with petite hands and fingers
S  Small - Most women wear Small
M  Medium - Women with larger hands, Men with smaller hands
L  Large - Most Men wear L