Fingerless Gloves REVERSIBLE Plaid Moose
Description
Fingerless Gloves PLAID MOOSE
TURTLE GLOVES® Reversible Fingerless Gloves
Fingerless Gloves PLAID MOOSE design is cozy and fun and sure to be your favorite.
PLAID MOOSE
PLAID MOOSE has a black and white plaid pattern side that is bold and classic. The moose patterns are random, adding to their charm. Coordinating solid colors of black and red round out the design.
You will notice that Fingerless Gloves are convenient and allow you to do things you could not do with your fingers fully covered. Keep your hands warm enough for comfort from cool weather or cold hands while keeping your fingers available and agile for tasks.
Turtle Gloves REVERSIBLE Fingerless Gloves do so much more than any other fingerless gloves! Like 2-Gloves-in-1 and more, Reversible Fingerless Gloves give you so many choices in one pair of gloves! The Patented dual-layer design allows designers to create fun pattern and color combinations for cozy fashion styles. Specialty styles such as Waterproof Fingerless Gloves – Water Repellent with Water Repellent Lining; WATER REPEL 720 are also made possible by combining different types of specialty and technical fabrics.
CURIOUSLY ENGINEERED – Patented Functionality
Dual-Layer Reversible Design – 2-Gloves-in-one or 4-Gloves-in-1 – Change hands for a different look – Turn completely inside-out for another 'pair' of gloves – Mix and match – Add any liner gloves for a great layering system – Large storage space, insert heat pack or small items
Dual-layer Reversible Design and Function
Many dual-layer designs have open layers, meaning you can insert items between the layers such as a heat pack, tissue, gum, key etc. You can also tuck your sleeve between the layers or even tuck your fingers in for a quick warm-up. We recommend holding both layers when putting glove on. When you wish to completely reverse the glove, remove it and while holding both layers, turn it inside-out to place the inside layer to the outside.
Changing the look of your Turtle Gloves
Turtle Gloves can be worn on left or right hand. With fashion styles, you can change the look by simply switching hands or turn them completely inside-out for a complete change. Fold a cuff at the wrist or finger end for fun color accents.
Specialty styles such as Fingerless Gloves – Water Repellent with Non-slip and Fleece Lining; WATER REPEL 180 have a Water Repellent side that can be worn at the back of the hand and a non slip side to be worn on the palm or worn at the back of the hand for a different look.
There is no need to remove Turtle Gloves when you need your hands for a task. Simply tuck in your thumb and slide the Turtle Gloves to your wrist instead of removal.
Added Warmth Options
Wear short end over fingers or long end over fingers for more warmth. For a quick warm-up, you can tuck your fingers between the layers. Add any liner gloves as a base layer for very cold days. Insert a heat pack or other small items in the large storage space. (Liner gloves not included, Heat pack not included)
ADULT SIZES: (S, M, L, XL) See Size Conversion Chart -OR- measure across knuckles with fingers together: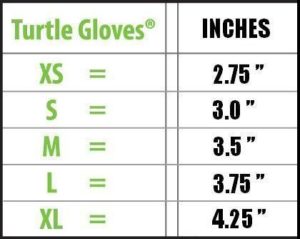 WOMEN typically wear S or M. Order your normal size. Except, if you wear Women's L, try size M. If XL try size L.
MEN typically wear M or L. Order your normal size. Except, if you wear Men's Small, try size M.
100% Polyester Machine Wash Cold or Warm. Tumble Dry Low or Hang Dry.
Do not Bleach. Do not Dry Clean. Do not use Fabric Softener.
Made in U.S.A. of U.S.A. and/or Imported Materials.
Additional information
| | |
| --- | --- |
| Weight | 3.0 oz |
| Dimensions | 8 × 4 × .5 in |
| Size | Small, Medium, Large |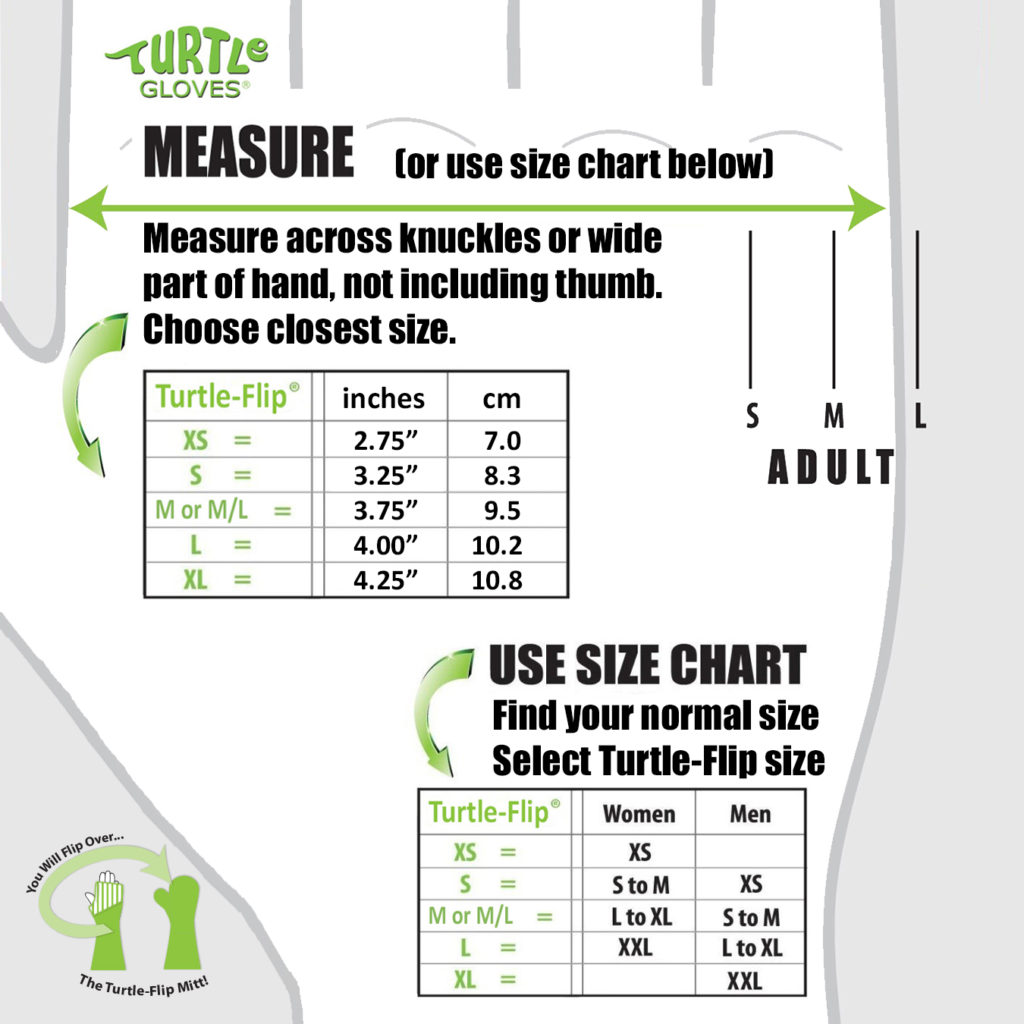 Most Turtle-Flip Mittens cover a wide range of hand sizes.
Lightweight & Midweight (Y  XS  S  M/L  XL);
Y Youth - Youth about 8-12 years, women with petite hands and fingers
XS  Extra Small - Women or teens with narrow hands but longer fingers
S  Small - Most women wear Small
M/L  Medium/Large - Most Men wear M/L
XL  Extra Large - for very large hands
Heavyweight 'Weather Protect' (XS  S  M  L);
XS  Extra Small - Adult XS, women with narrow hands, teens
S  Small - Most women wear Small
M  Medium - Women with larger hands, Men with smaller or average hands
L  Large - Most Men wear L
Fleece Mittens 'Winter Cozy Colors and Prints' (Y  S  M  L);
Y Youth - Youth about 8-12 years, women with petite hands and fingers
S  Small - Most women wear Small
M  Medium - Women with larger hands, Men with smaller hands
L  Large - Most Men wear L