Description
TURTLE GLOVES® Reversible Fingerless Gloves; Water Repellent Fingerless Gloves with Fleece Lining; WATER REPEL 360
These Reversible Turtle Gloves are nearly waterproof and make perfect Fishing Gloves, Hunting Gloves, Biking Gloves or simply cold weather gloves. This extra long dual-shell design exhibits a primary outer shell with '360 degrees' of water repellent fabric around the entire hand. The secondary shell is a soft, warm fleece lining when worn on the inside and may be worn on the outside when glove is completely reversed for appearance or allowing the fleece to dry if it gets damp.
CURIOUSLY ENGINEERED – Patented Functionality.
Dual-Layer Reversible Design – 2 Gloves-in-One – Wear on left or right hand – Turn completely inside-out for another 'pair' of gloves – Mix and match – Add any liner gloves – Large storage space, insert heat pack or small items, warm up fingers between layers
ADULT SIZES: (S, M, L) See Size Conversion Chart -OR- measure across knuckles with fingers together; for snug fit, choose smaller size: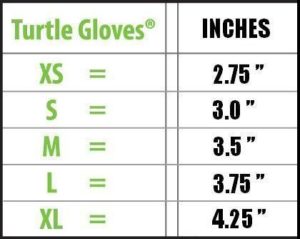 WOMEN typically wear S or M. Order your normal size. Except, if you wear Women's L, try size M. If XL try size L.
MEN typically wear M or L. Order your normal size. Except, if you wear Men's Small, try size M.
100% Polyester Machine Wash Cold or Warm. Tumble Dry Low or Hang Dry.
Do not Bleach. Do not Dry Clean. Do not use Fabric Softener.
Made in U.S.A. of U.S.A. and/or Imported Materials.