Fingerless Gloves – Water Repellent with Fleece Lining; WATER REPEL 360
Description
Fishing Gloves Water Repellent
TURTLE GLOVES® Reversible Fingerless Gloves; Water Repellent Fingerless Gloves with Fleece Lining; WATER REPEL 360
Fishing Gloves Water Repellent with fleece lining. These Fingerless Gloves help to keep your hands warm and dry while keeping your fingers available and agile for tasks. While many fingerless gloves worn for fishing can get snagged by hooks, these gloves are virtually snag free.  This extra long dual-shell design can be worn long at the wrist or inverted to wear long at the fingers.  The WATER REPEL 360 exhibits a primary shell, normally worn as the outside layer, provides '360 degrees' of water repellent, snag resistant fabric around the entire hand. The secondary shell is a soft, warm fleece lining when worn on the inside and may be worn on the outside when glove is completely reversed for appearance or allowing the fleece to dry if it gets damp. These Reversible Turtle Gloves are also great for Kayak Fishing, Rowing, Hunting, Biking or for any cold, potentially damp activity.
CURIOUSLY ENGINEERED – Patented Functionality.
Dual-Layer Reversible Design – 2 Gloves-in-One – Wear on left or right hand – Turn completely inside-out for another 'pair' of gloves – Mix and match – Add any liner gloves – Large storage space, insert heat pack or small items, warm up fingers between layers
ADULT SIZES: (S, M, L) See Size Conversion Chart -OR- measure across knuckles with fingers together without thumb, choose closest size; choose smaller size for snug fit; size up to wear with thick liner gloves.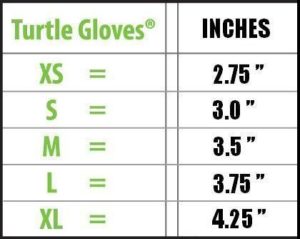 WOMEN typically wear S or M. Order your normal size. Except, if you wear Women's L, try size M. If XL try size L.
MEN typically wear L. Order your normal size. Except, if you wear Men's Small, try size M.
Machine Wash Cold. Tumble Dry Low, Hang Dry or Lay Flat to dry.
Do not Bleach. Do not Dry Clean. Do not use Fabric Softener.
Made in U.S.A. of U.S.A. and/or Imported Materials.
Additional information
| | |
| --- | --- |
| Weight | N/A |
| Dimensions | N/A |
| Size | S, M, L |
| Colors - Dual Shell | Black/Black, Black/Aqua, Black/Red, Black/Olive, Black/Camo, Black/Fish, Aqua/Aqua, Aqua/Black |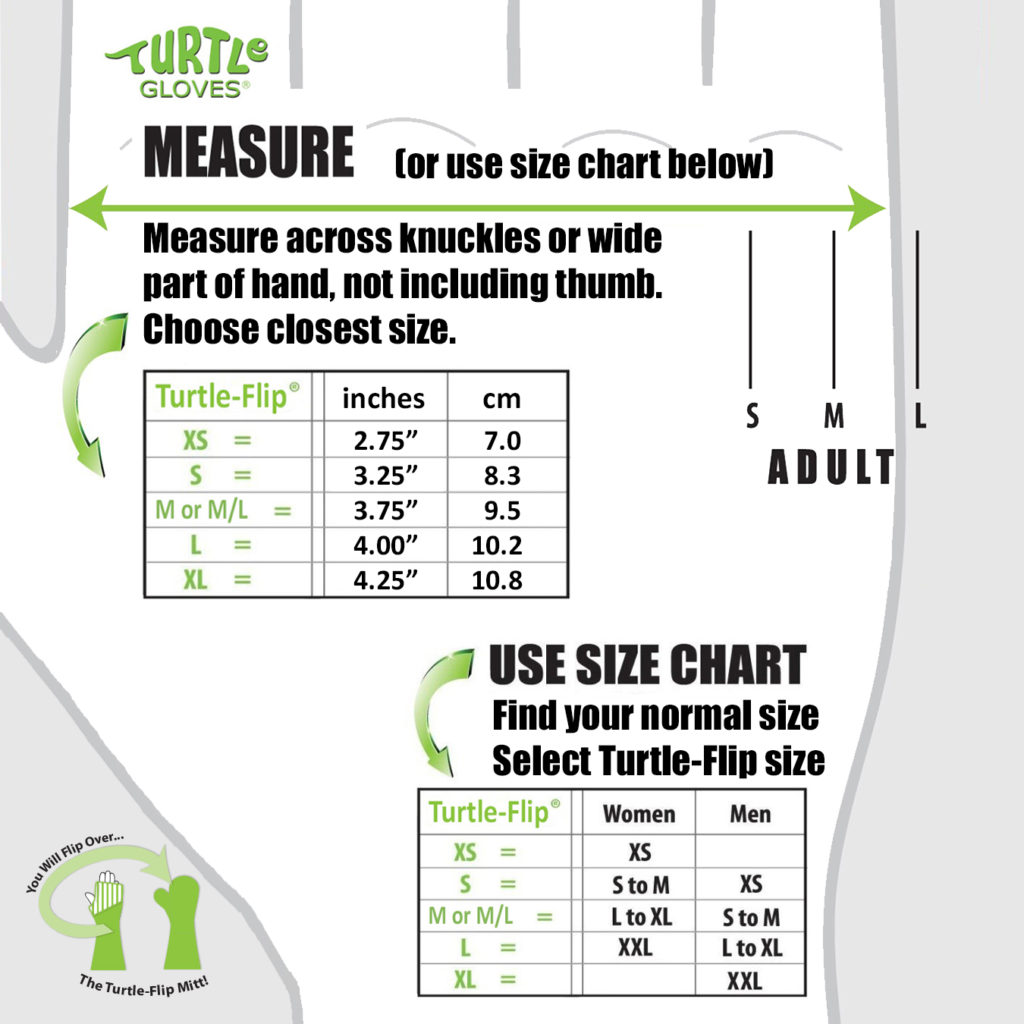 Most Turtle-Flip Mittens cover a wide range of hand sizes.
Lightweight & Midweight (Y  XS  S  M/L  XL);
Y Youth - Youth about 8-12 years, women with petite hands and fingers
XS  Extra Small - Women or teens with narrow hands but longer fingers
S  Small - Most women wear Small
M/L  Medium/Large - Most Men wear M/L
XL  Extra Large - for very large hands
Heavyweight 'Weather Protect' (XS  S  M  L);
XS  Extra Small - Adult XS, women with narrow hands, teens
S  Small - Most women wear Small
M  Medium - Women with larger hands, Men with smaller or average hands
L  Large - Most Men wear L
Fleece Mittens 'Winter Cozy Colors and Prints' (Y  S  M  L);
Y Youth - Youth about 8-12 years, women with petite hands and fingers
S  Small - Most women wear Small
M  Medium - Women with larger hands, Men with smaller hands
L  Large - Most Men wear L