Description
Hoodie with Mittens – The Mitten Hoodie Conversion with Patented TURTLe-FLIP® Technology from Turtle Gloves®
Hoodie with Mittens so you will never loose your Mittens again! This Turtle Gloves Mitten Hoodie is full zip hoodie style and has built-in convertible mittens that you will love. When not in use, the low-profile cuffs seem as normal as any other hoodie. But when you need a little warmth, the cuffs easily convert into Fingerless Gloves or MITTENS! As fingerless gloves, they can be worn long for more finger coverage or folded short. Then with a simple flip, (as described below) the mittens pop out. To fold back into a cuff, convert to fingerless long, tuck in your thumb and fold onto wrist. Just like the hood is there when you need it, you now have mittens ready for a chilly day.
Body of Hoodie is a cozy polyester cotton blend and features a dual-layer hood and metal zipper. The mittens or 'Turtles' are built into the Mitten Hoodie and made of high-performance technical fabric, wicking and breathable. Slight color variation may be noticed on 1-color models due to the difference in fabric material.
Hoodies are blank unless noted.
Optional Add-on: Great Lakes Logo patch
Optional Add-on: USA Made Paracord
CURIOUSLY ENGINEERED – TURTLe-FLIP® Patented Functionality.
Turtle Gloves patented, low-bulk flip-over design with trademarked Turtle-Flip Mittens. No buttons, magnets or hook & loop. No cumbersome mitten piece to get in the way. Thumb piece naturally folds into place in Fingerless Gloves mode. Simply curl fingers and flip elastic trim piece over all fingers and thumb together. Fold over or under to adjust length of finger exposure. From fingerless gloves mode, tuck in thumb and slide to wrist or fold once neatly into cuff or roll as desired. Use similar flipping method to turn back into mittens from fingerless gloves.
Made in U.S.A.
Fabric Content: Base: (jacket) 50% Polyester/50% Cotton
Mittens (most designs): 93% Polyester, 7% Spandex
Washing Instructions: Machine Wash Warm. Tumble Dry Low.
Do not bleach. Do not dry clean. Do not use fabric softener.
Additional information
| | |
| --- | --- |
| Weight | 20 oz |
| Dimensions | 12 × 8 × 2 in |
| Color | Aqua, Black/Blue, Black/Green, Black/Neon Yellow, Black/Pink, Gray, Neon Yellow/Black, Red, Red w/ Great Lakes Logo, Purple, Black, Navy |
| Size | Small, Medium, Large, XL, XXL |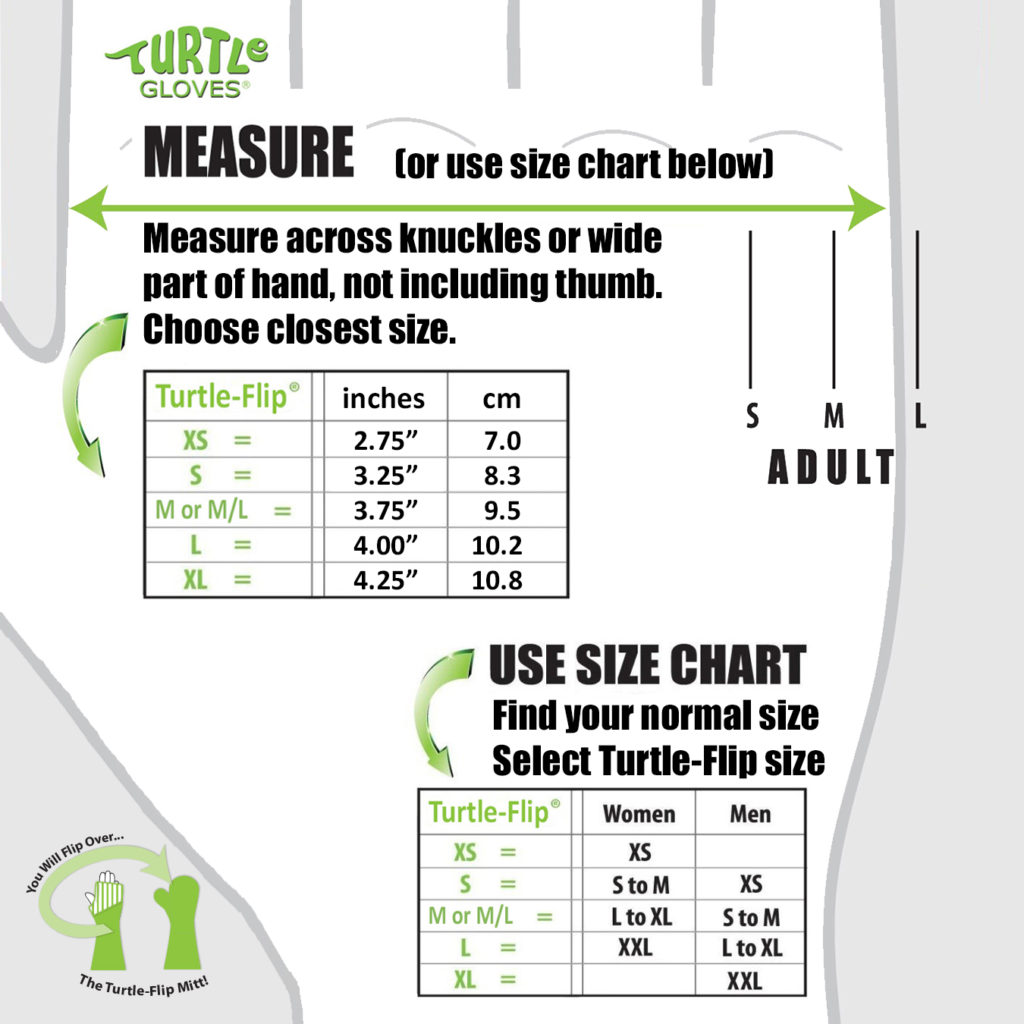 Most Turtle-Flip Mittens cover a wide range of hand sizes.
Lightweight & Midweight (Y  XS  S  M/L  XL);
Y Youth - Youth about 8-12 years, women with petite hands and fingers
XS  Extra Small - Women or teens with narrow hands but longer fingers
S  Small - Most women wear Small
M/L  Medium/Large - Most Men wear M/L
XL  Extra Large - for very large hands
Heavyweight 'Weather Protect' (XS  S  M  L);
XS  Extra Small - Adult XS, women with narrow hands, teens
S  Small - Most women wear Small
M  Medium - Women with larger hands, Men with smaller or average hands
L  Large - Most Men wear L
Fleece Mittens 'Winter Cozy Colors and Prints' (Y  S  M  L);
Y Youth - Youth about 8-12 years, women with petite hands and fingers
S  Small - Most women wear Small
M  Medium - Women with larger hands, Men with smaller hands
L  Large - Most Men wear L